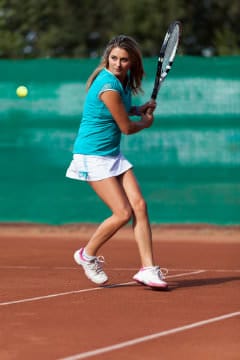 Whether you are a serious tennis player or enjoy a recreational game with friends, foot pain can turn a fun activity into a miserable experience.
Plantar Fasciitis affects athletes, people who spend a lot of time standing, have high arches or wear bad fitting shoes for long periods of time.
Don't let foot pain stop your game, read on for the best tennis shoes for Plantar Fasciitis.

Top Tennis Shoes for Plantar Fasciitis – Women and Men
5 Best Tennis Shoes for Plantar Fasciitis
These professionally designed Plantar Fasciitis tennis shoes from ASICS will protect your feet as you move around the court.
The shoe is made from synthetic fabric which cleans easily by wiping with a damp cloth and allowing to air dry. These shoes are offered for both men and women with unique features for each.
For women, the design has cushioning for mid-sole compression and a padded tongue and collar for extra comfort. For men, if offers an extended Flexion Fit. Both feature a PGuard toe bumper and a unique non-slip rubber sole. The sole has a Gel filling that absorbs shock, easing the blow of a hard landing and minimizing impact.
The design is enhanced by High Abrasion Rubber which is fitted in areas that take the most strain, adding to the life and durability of the shoe.
The shoe laces up for a perfect fit that will hug your feet and never slip off. With their form-fitting design, these are the best tennis shoes for high arches.
For the fashionistas, the color range is super cool. You have a choice of contrasting, bright, bold neon shades for the outgoing personality. Or choose a clean white for a classic and refined look.

Hot, sweaty and painful feet will be a thing of the past with these good tennis shoes for Plantar Fasciitis. They are manufactured from a breathable material that allows air circulation, keeping you cool for long hours on the court.
The design comes in a version for men and women. Both offer a rubber sole for a non-slip grip, enhancing your performance and adding stability to your game.
With the large range of sizes on offer, you are sure to find the most comfortable and perfect fit. The shoe offers a unique S-Curve stability feature which minimizes impact and absorbs shock as you run and jump.
The New Balance tennis shoe is made from a modern synthetic material which is lightweight, breathable and durable. The color choice is classic in a refined white, with an option of a fun hot pink for the ladies.
If you are looking for tennis shoes to reduce foot pain, these are a perfect choice. They offer a comfortable fit, a shock absorbing step and a great look that is sure to compliment your designer tennis outfit.

The Prince T22 shoe is the best tennis shoes for high arches or painful feet. The ladies version features a wishbone shank which gives increased stability in the mid foot area. It also absorbs shock and impact as you run and jump. The men's version offers a special shock eraser.
Both designs are made from a combination of synthetic and mesh material. This offers great ventilation keeping your feet cool and fresh for hours. The material also provides the durability and support you expect from a shoe designed to end foot pain.
The unique toe cap provides abrasion protection. You will find that the PC 1000 outsole gives super traction on the court. This prevents you from slipping or tripping as you swing to take difficult shots.
The Prince T22 has a TPU forefoot strap for added stability that is a must if you have painful feet. Looks and style are not forgotten either and the lace-up design will look great with any tennis outfit. The shoe comes in a stylish white and a range of colors. They include a fun and eccentric sky/mint combination for the ladies and a black/electric green combination for the guys.

If you are looking for great Plantar Fasciitis tennis shoes, Adidas has a stylish option in their Barricade Court range. With a classic design of three stripes down each side, this shoe is certainly on-trend. The design features extended torsion system technology which supports your foot but gives toes and heels ample space to move. This will ensure that your feet never cramp or seize up.
The synthetic mesh fabric combination ensures adequate breathability keeping your feet cool. You can play for many hours and always be comfortable. For extra protection and comfort, the shoe has built in Adiprene+ foam cushioning. This shock-absorbing technology helps to reduce impact on knees and joints while jumping and running. The rubber sole offers a great non-slip grip and will also never mark or damage the surface of the court.
The added rubber protector on the toe is designed for the 'toe draggers' and will minimize wear and tear on the front of the shoe.
For the ladies, the shoe comes in white with a choice of trims in red, gray or copper. You can also go all out with a frozen yellow and gray trim combination. For the gents, be bold and get noticed in black and solar red.

When Roger Federer teams up with Nike to design a shoe, you can be assured that you will have good tennis shoes for Plantar Fasciitis. The Nike Zoom Vapor 9.5 fits like a glove, protecting your foot and giving maximum stability.
If you are one of those people who need a specific fit, this shoe will be a great choice. It features an Adaptive Fit which wraps around from the bottom of the arch to the laces for a molded custom fit.
The coolest feature of this shoe is the Zoom air unit. It is embedded into the heel and cushions your feet as you run and jump. There is also a TPU mid foot shank that gives lateral support and stability.
The rubber outsole is made with an XDR compound on the heel and forefoot, ideal for surface traction. It also adds extra durability, ensuring that the shoes last for many seasons to come.
These shoes have a breathable mesh upper made from lightweight synthetic materials, allowing for air flow, keeping your feet cool and dry. The stylish lace-up top and iconic Nike tick on the side will certainly make you feel like tennis star! With its superior design and attention to health issues, this shoe offers everything you need if you are a Plantar Fasciitis sufferer.

Conclusion
Don't let foot pain stop you from enjoying a great game of tennis. Both these high-end designs, the ASICS GEL and the New Balance Stability Shoe, are the best tennis shoes for Plantar Fasciitis on the market. They offer superior health benefit technology without compromising on style or fashion. They will also never mark or damage the surface of the tennis court.
Product images sourced from Amazon.com.